Accelerated Loss of Main Change Programme (ALoMCP)
The National Grid Electricity System Operator (NGESO), along with the Energy Networks Association (ENA), Distribution Network Operators (DNO), and Independent Distribution Operators (IDNO) introduced the ALoMCP to improve grid stability & safety.
Non-domestic generators that were connected before 1st February 2018 may need to upgrade their hardware to comply with the Distribution Code.
The ALoCMP is a programme designed to help owners of generation sources ensure their equipment is compliant.
Why are these changes being made?
These changes are coming into force to improve grid stability, and safety. To ensure that power isn't pushed back to the grid network during times of outage or maintenance some generators may need to upgrade their hardware or make software changes.
The huge increase in renewables over recent years has changed how the electricity system operates. The protection settings that were applied to generation connecting before February 2018 are now too sensitive considering today's generation mix and risk cutting out unnecessarily during normal electricity system events. The changes in demand for electricity caused by the impact of COVID-19 has further exacerbated this.
Owners of generation have a requirement to comply with the modified interface protection requirements in the revised EREC G59. Note that the new requirements do not apply to smaller generation equipment that has been type tested and which does not have a specific rate of change of frequency (RoCoF), or vector shift, loss of mains (LoM) interface protection functions.
This programme applies to the whole of the U.K. excluding Northern Ireland.
When does this come into force?
These changes come into force on the 1st of September 2022. Generators have until then to ensure that the equipment installed on their site is compliant, whether they apply to the ALoMCP or not. After this date owners may be subject to an enforcement programme.
What help is there for owners to make these upgrades?
Grants are available for owners, this is via an application process. The current grants are only available for application until the 9th of February 2021. After this date there is no guarantee of further grants, or the same level of support.
Grants only apply to generators that were connected in accordance with a connection procedure called EREC G59.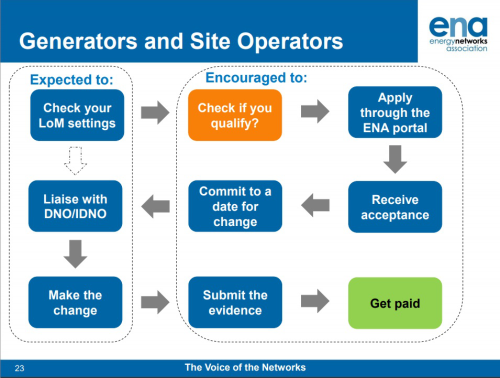 Fast Track – are you eligible for the additional £5000 payment?
The fast track application process offers an additional payment of £5000 to distributed generation sites that meet the flowing criteria and are encouraged to apply on the registration portal.
Minimum site capacity: 500 Kw
Maximum site capacity: Less than 5,000 Kw
Type of LoM protection: RoCoF
Pre-change RoCoF settings: Up to and including 0.2 Hz/s
Lead time to completing the changes: Less than or equal to 4 weeks
For more information on the programme, the grants available, and how to apply please see the National Grid Website, or the Energy Network Association.
National Grid advice; https://www.nationalgrideso.com/industry-information/accelerated-loss-mains-change-programme-alomcp
Energy Network Association; https://www.energynetworks.org/industry-hub/engineering-and-technical-programmes/accelerated-loss-of-mains